(Note: Although Pat is not a real Nirvana member)
•In Brief
Name: Pat Smear
Date of Birth: August 5th, 1959
Childhood Residence: West Los Angeles, California
Previous Bands: Foo Fighters, Nirvana, Mike Watt, The Germs, 45 Grave, Deathfolk, Nina Hagen, Tater Totz, Vagina Dentata, Twisted Roots, Ruthensmear
Musical Influences/Interests: Queen, Freddie Mercury, Brian May, David Bowie, Steve Howe, Eddie Van Halen, Alice Cooper
About Pat: His real name is Georg Ruthenberg. He's about 6'1. He has two solo albums - 'So You Fell In Love With a Musician' and 'Ruthensmear', and plans on making another soon. He once had a job as a phone sales receptionist. Sonic Youth used his name as the chorus of their song 'Screaming Skull'. He likes shopping for guitars, dressing up, dressing in drag, watching TV, smiling,eating sweets and boxing. He doesn't like to wear shoes - He prefers socks. He hates doing interviews.
Family Ties: His father was a German Immigrant (Inventor, Photographer) and his mother was an African-American/Cherokee (Foreign language teacher, Opera Singer). Though not really family, he apparently has a girlfriend, Jena, of nearly 20 years.
Early life, The Germs and Acting: Pat ran away at age 3 to join a 'Jesus Commune'. His first bandmates were Jan Paul Beahm (Darby Crash) and Lorna Doom - The Germs. He has worked on a movie about the Germs. He's quite the experienced actor, appearing in Prince's 'Raspberry Beret' and No Doubt's 'Don't Speak' videos, and in movies such as 'Blade Runner', 'Howard the Duck', 'CHIPs' and 'Breakin'', where he first met Courtney Love.' He had a regular segment on MTV's House of Style.
Pat and School: Pat and Darby Crash were both admitted to an experimental education program, called "The Innovative Program School", a sattelite school located on the campus of the University High, in Santa Monica, California. This project was designed for students who couldn't fit in to the regular educational curriculum. The student body included many outcasts and miscreants - many of whom would soon form part of the original LA punk scene. Some of the other students who participated in the program were: Kira Roessler (Black Flag bassist), Michele Bell (Vagina Dentata bandmate of Pat's), Kim Gordon, Kim Fowley and Frank Sinatra Jr.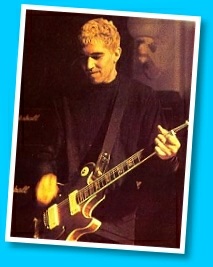 Guitars: Pat never owned guitar until later in his musical career, often borowing guitars from the Germs' opening act. His first guitar was a Red Hagstrom. He plans to buy the rights to the Hagstrom name and bring them back. He likes cheap solidbodies. He has stuffed a pillow inside one of his guitars. The colour 'Blue Sparkle' is one of his favorite colours. He prefers to downstroke. He wants to make a coffee table book of all his guitars, having nearly 100 at the moment. He was one of Dave Grohl's teenage guitar idols.
The Foo Fighters: The 'Flamboyant (ex) Foo'. He left the Foo Fighters to pursue other musical purposes before the 1997 MTV Music Video Awards, on September 4th, 1997. He presented an award with Cindy Crawford later that night. He's never really been in a band for more than a year, except for the Foo Fighters, which he was in for the better part of two years, and The Germs, who he was with for a long, long time.
The Red Hot Chilli Peppers & Nirvana: He was invited by Flea in 1993 to replace John Frusciante in the Red Hot Chili Peppers, but passed up the offer. Later that year, Pat wanted to be Nirvana's 2nd guitarist, but Kurt Cobain asked him to join the band before he had the chance to approch Kurt about an audition. He was known to lift Cobain's spirits. On the his Nirvana tour, the first tour of his life, with the exception of one with Nina Hagen in 1983, he shared a tour bus with Cobain, as Novoselic and Grohl shared the other one. He grew very close to Cobain and Courtney Love. At a Nirvana gig, he was deeply insulted by Eddie Van Halen's racist remarks, refering to Pat as 'a dark one', a 'raji' and a mexican, and trying to replace him on stage that night. Yet Eddie Van Halen still is one of Pat's musical influences.
•Discography

Solo: "So You Fell In Love With a Musician", on SST Records, (1992), "Ruthensmear", on SST Records, (1987)
Flipside: The Best of Flipside 2CD Compliation (Vagina Dentata's "Golden Boys", The Germs' "Forming (live)" and Ruthensmear's "Blue Funk Punk" (?)
The Germs: "Forming" (?), "Sex Boy" (?), "GI" (1979), "What We Do Is Secret" (1981), "Germicide - Live at the Whisky" (1982), "ROIR" (1982), "Let the Circle Be Unbroken" (1985), "Gasatanka" (1985), "Lion's Share" (1985), "Ghost o'Darb" (1985), "Rock n' Roll" (1986), "XES" (1986), "MIA - The Complete Anthology" (1993), "Media Blitz" (1993), "?" (The Germs Tribute Album on Grass Records) (1996)
Nirvana: "MTV Unplugged In New York" (1994)
With Mike Watt: "Ball-Hog or Tugboat?" (1995)
Foo Fighters: "The Colour And The Shape" (1997)


More on Pat....
• Pat's Picture Gallery