| | |
| --- | --- |
| Rage Against the Machine | Reviews |
---
R.A.T.M at the Rock im Park Festival
The Battle of Nuremberg-10-06-2000
  You haven´t been at the Rock im Park festival? Well you´ve missed the event of the year in Europe. The Rock im Park was going on for 3 days from the 9th of June to the 11th. There were about 90 bands and ca. 60.000 people!
Rage played on Saturday evening after Korn and before the Toten Hosen. Korn played until 19:10, then they´ve brought the rage gear on stage and the soundcheck was finished at 19:40. Everybody was excited and we couldn´t wait to hear Rage again after a long time of abstinence(B.O.Munich in February). Before a band started to play to moderators of thr R.I.P festival came on stage and told the croud a bit about the next performing act and the name of the band. None of this before Rage came, because like we all know Zack doesn´t need anybody to announce them he introduces Rage by himself. And so he did Rage came on stage at 19:45 and the weather was just so fucking hot (35°C)."Good evening we are.......!" The crowd was about to explode  and so did Rage they started off with Bomtrack, the crow just went fucking mad. They played for an hour and I tell you the footballstadium was about to exlode. A friend of mine who was badly drunk just couldn´t find the way into the stadium so he placed himself up on the seating places, which were fucking expensive, but he made his way in it without paying. He told me this was the best view he ever had, you could have seen the hole stadium jumping and shouting!
 
(Setlist not in order but close:)
Bomtrack
Testify 
Guerilla Radio
People of the Sun
Ghost of Tom Joad
Bullet in the head
Sleep now in the fire (with the blueslike intro)
Know your enemy
Bulls on parade (with guitar intro sounding like a keyboard)
Freedom  ("Freedom for Mumia!")
Killing in the name of

It was a very exhausting performance I think for both: Rage and the crowd, cause you could not just stand still and listen no you were nearly forced to jump and scream - and that´s the thing about Rage. Also I have to say Rage had one of the best instrumnetal settings, you could understand Zack very well (not so Korn, they had a bad mic setting). Rage was the most impressive band performing during this three days and I´ll never forget this event, so check it out. Until next year! Greetings to everybody who was with me: Hanns, Hannes, Jango, Joe, Herb, H1, Karli, Robbi, Andl, Gerry, Ladi & the girls - we had a great time until next year:
  Respect: Wolf Dieter
  (Pictures borrowed from somewhere!)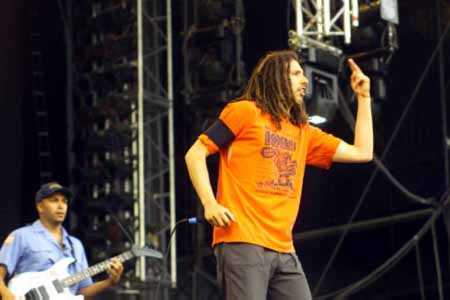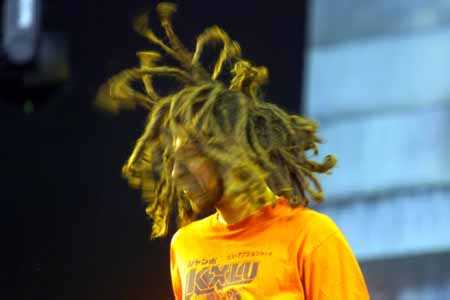 ---
Information: news | mandatory info | background | faq | releases | articles | tour | discography | incidents
Message: lyrics | tabs | instrumentation | words/quotes | politics | booklist | media | pictures | bootlegs
Community: wwwboard | newsgroup | mailing list | links | chat | | merchandise | guestbook | reviews | fans speak!

...back to main page | e-mail: uprising@vii.com.