DARK SOULS DVD REVIEW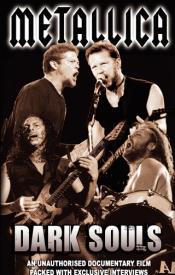 Dark Souls is a new released DVD/VHS of Chrome Dreams. This video is completely diffirent from all past Metallica documentary videos. The reason of what makes this video special is the interviewsare mostly with the people who were/are around the band
There are only a few interviews with Lars, Kirk and Jason (No interview(s) with James). Maybe we can say that a few interviews with the band is a minus thing for the video, but less interviews with the band and more interviews with the people around the band gives you another viewing angle. That's for sure!
Dark Souls is a must for every 'tallica fan. Because Dark Souls is just like a history book for fans. Dark Souls tells almost every single detail, every milestone in Metallica's history from the beginning to 2003.
Dark Souls has 15 chapters; 'L.A. Roots', 'The Second Bass Player', 'The San Fran Scene', 'Party On', 'Finding A New Bass', 'The Future', 'Stadium Gigs', 'Changes In Sound', 'The Infamous Dave Mustaine', 'Their Darkest Day' , etc... Each chapter has many exclusive interviews with friends of Metallica. Just like; Harald O., David White (Kirk's brother in law), Ian Kallen (Founder of 'Rampage Radio'), Jon Torres (Lead Singer of 'Angel Witch', Danny Shipman, and many many more....
I think the most touching chapter of the video is 'Their Darkest Day'. I think it must be easy for you to guess what this chapter is all about. Yes, the chapter is about Cliff's death. In this chapter you will be able to see how Cliff's death effected on the metal scene of San Francisco. This chapter will give you completely unseen viewing angle of Cliff's death.
Briefly on Dark Souls you'll be able to go behind the music to discover what it took for Metallica to remain Kings of the metal scene for almost 24 years.
I strongly recommend you to get a copy of this Dark Souls video. Dark Saouls is avaliable in both DVD and VHS format. You can buy Dark Souls on the Chrome Dreams website and the Amazon.co.uk
Here is the technical information of the DVD version:
Running Time: 65 mins (Approx)
Region: 0 (All Regions)
Screen Format: 4:3 (Full Screen)
Sound: Stereo Sound Mix (English)
Subtitle: Spanish
DVD Features:

Interactive Menus
Interactive Trivia
Extensive Metallica Discography
Review by Metallizone.com
Special Thanks to Sylwia @ Chrome Dreams