...

Kenton, TN
January 8, 19??
Brubaker, Gand L, Fender & Schector basses and Ampeg Amps
Stone Temple Pilots, Foo Fighters, Head Swim, Led Zeppelin, Chili Peppers, & The Eagles

Led Zeppelin -- Houses of the Holy

The Smiths -- Strange Ways Here We Come

Pink Floyd -- Dark Side of the Moon

The Eagles -- Hotel California

Fleetwood Mac -- Rumors
The Ususal Suspects, Pulp Fiction, Sling Blade, The Firm, & Gladiator
Working on my computer, Renting Movies, & Playing Fooz Ball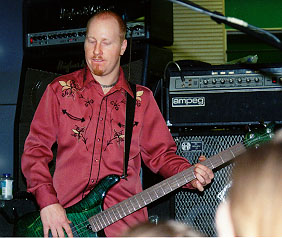 9:30 Club - Washington D.C.
It's Come to This (It's challenging to keep this song tight.)
Silverchair, The Verve Pipe & Tonic

Silverchair, Foo Fighters, Everclear, & Metallica
Getting Signed

Getting to go to the Sony VIP Party after the Grammy awards

Making a video

Working with Producer Brendan O'Brien
The Beatles, The Eagles, Pino Palladino, Led Zeppelin, & Flea
What can go wrong usually does...
All information by Eric Hoffman, and may not be used without consent.